The Great Himalayan Ultra 600 km 2019 - Solo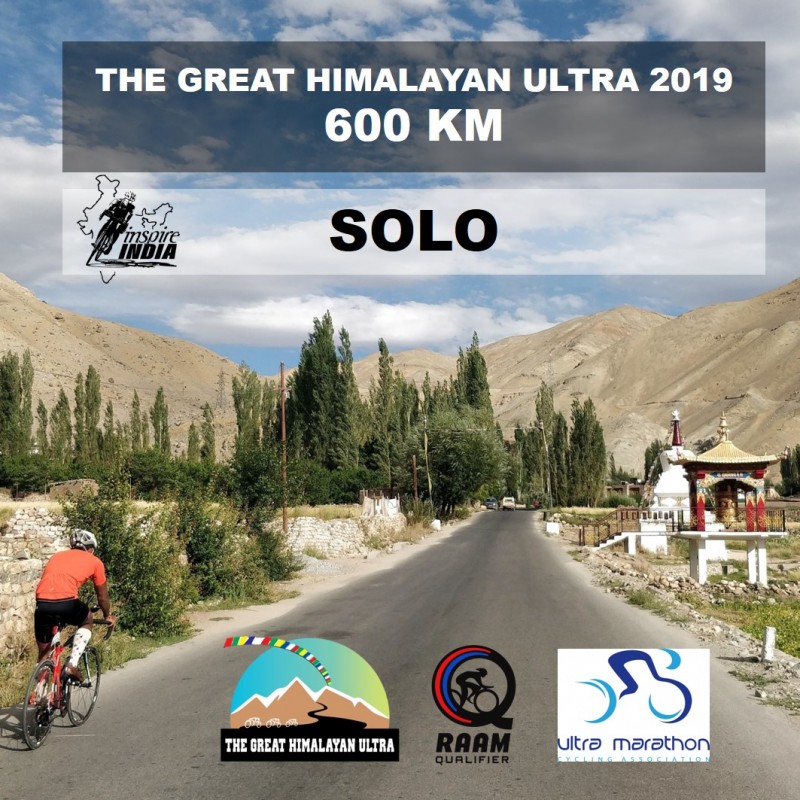 THE GREAT HIMALAYAN ULTRA 600 km 2019 SOLO
The Great Himalayan Ultra Race is the World's highest Ultracycle race. A 600km road race starting and finishing in Leh, Ladhak. Comprising solo and relay team categories, all racers in all categories must have a support vehicle and crew. Solo is a RAAM Qualifier for racers, finishing within the cut-off will qualify for The Race Across America. The Relay team category is RAAM style. The Races are also on the Ultramarathon Cycling (UMCA) calendar.
A 900 KM Extreme Race over Tangang La will be run in the 3rd edition 2020!
The First Edition of the Race was successfully finished with a win by Kabir Rachure. Read the details here- https://www.inspire-india.in/great-himalayan-1st-edition-race-report/
Before the race was conducted Amit Samarth had been invited to recce the route with the Inspire India team. Read his Blog Report – https://www.inspire-india.in/amit-samarths-great-himalayan-ride/
LADHAK CALLING!!
Inspire India brings you the world's highest Ultracycle Race… With a start point elevation higher than any point on any Ultracycle Race in the world!
Being a High Altitude Race, all racers will be required (mandatory) to report in Leh between 8-10 days before race start. While this is for us to establish that racers get the bare minimum acclimatization, it is highly recommended that racers arrive 12-14 days in advance to ensure that they acclimatize satisfactorily. This is particularly necessary if racers are flying directly into Leh. Option is to reach Srinagar or Manali and drive to Leh, in order to have a slower transition to high altitude.
Race Details
Location – Leh
Distance – 600 km Race
Start Date – 2nd Aug 2019
Elevation Gain – 10347 Mts
Start Elevation – 3500 Mt above sea level
Detailed Event Schedule
Tue 23rd-thurs 25th July – Mandatory Reporting for Racers for Acclimatization
Mon 29th July – Mandatory Reporting for all Crew for Acclimatization
Thurs 1st Aug – Race Inspection
Fri 2nd Aug – Race Start
Sun 4th Aug – Race Finish
Race Route
Route Details
– From Leh to Thiksey (on the Manali Highway) turn, and head back up north-west to Dras (on NH1 to Srinagar) Leh is a well know destination in India and at a height of 3500Mts or 11500 ft will be a high altitude start point. Ladhak the region is a high altitude desert which almost shuts down for over 6 months of the year. The Road to Srinagar is a well maintained and incredibly scenic route, with an elevation gain of 10350 mts and a highest point of 4100 mts at Fotu La. Solo and Relay Team category Race, fully supported by crew and vehicles, time trial style ultra race, similar to The Deccan Cliffhanger by Inspire India.
Format, Categories And Timings
Given the high Altitude of the race the format will be a little different from the usual non-stop time-trial format. There will be a mandatory 3 hour rest halt for all racers and teams at a designated location.
600 KM – SOLO RAAM Qualifier
SOLO is just that…. Solo! Solo racers ride the entire distance, while their crew provides them with full support. Categories and Timings are based on Racing Age and Gender. Racing Age is the age each Racer will turn during the calendar year of the race (year of race minus birth year). Solo Racers at The Great Himalayan Ultra Qualify for The Race Across America if they finish within the RQ timings.
Categories and Timings are based on Racing Age and Gender. Racing Age is the age each Racer will turn during the calendar year of the race (year of race minus birth year). The Ride option is for riders attempting to ride The Great Himalayan Ultra solo, who do not complete within RQ timings. All riders who complete the route within their time limit of 48hrs will receive the Finisher's Award, but will not be qualified for RAAM.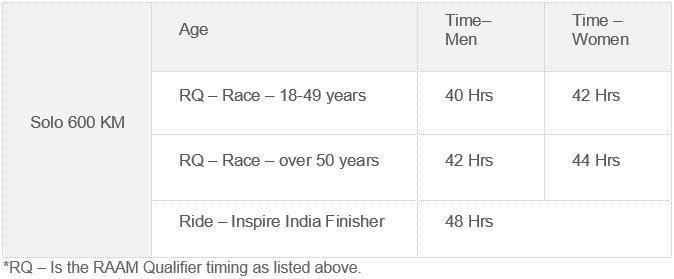 Guiding principles
Safety of all persons involved
Running a Clean and Healthy race with a level playing field for all
Creating a Race of International standards
Protecting Race integrity and reputation
(The guiding principles will dictate decision making by the Race Committee on any issue not specifically covered in these rules)
Insurance
All racers, crew and officials will have to be covered by Insurance. Details will be shared shortly.