THE GREAT HIMALAYAN ULTRA 600 km 2 Pax Team 2021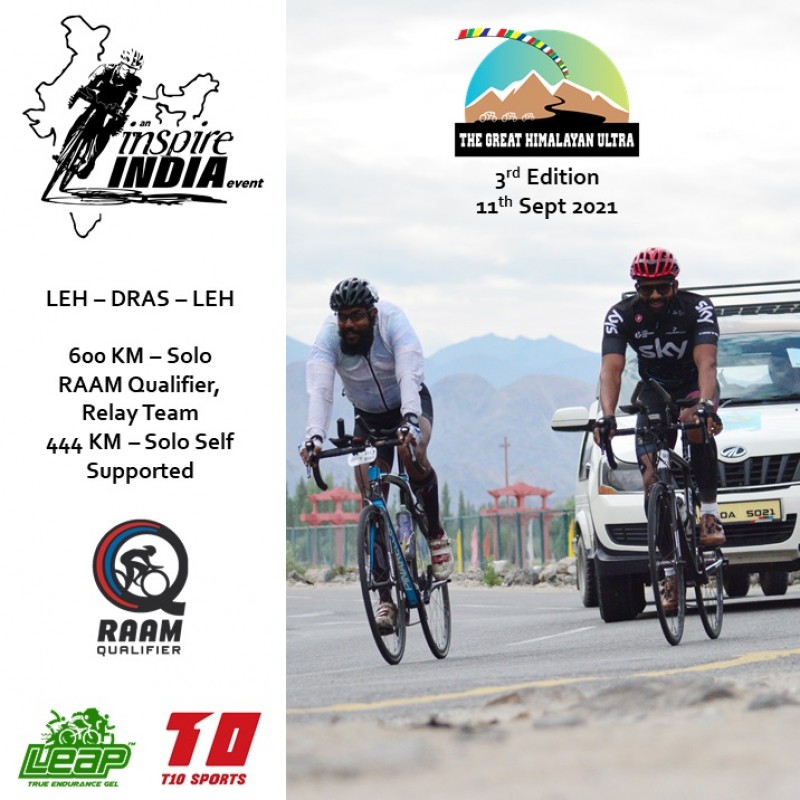 We are now shipping to all ALL ZONES across India. Further, NO DELIVERY is permitted in CONTAINMENT ZONES as of now.
THE GREAT HIMALAYAN ULTRA 600 km - 2 Pax Team 2021
The Great Himalayan Ultra Race is the World's highest Ultracycle race. A 600km road race starting and finishing in Leh, Ladhak. Comprising solo and relay team categories, all racers in all categories must have a support vehicle and crew. Solo is a RAAM Qualifier for racers, finishing within the cut-off will qualify for The Race Across America. The Relay team category is RAAM style. The Races are also on the Ultramarathon Cycling (UMCA) calendar.
LADHAK CALLING!!
Inspire India brings you the world's highest Ultracycle Race… With a start point elevation higher than any point on any Ultracycle Race in the world!
Being a High Altitude Race, all racers will be required (mandatory) to report in Leh 10 days before race start. While this is for us to establish that racers get the bare minimum acclimatization, it is highly recommended that racers arrive 12-14 days in advance to ensure that they acclimatize satisfactorily. This is particularly necessary if racers are flying directly into Leh. Option is to reach Srinagar or Manali and drive to Leh, in order to have a slower transition to high altitude.
PLEASE READ ALL RACE DETAILS including Rules and Regulations - https://www.inspireindia.net.in/the-great-himalayan-ultra/
Race Details
Location - Leh
Distance - 600 km Ultra
Start Elevation - 3500 Mt above sea level
Elevation Gain - 10347 Mts
Detailed Event Schedule
Wed 1st Sept – Last date for Mandatory Reporting for Racers for Acclimatization
Mon 6th Sept – Mandatory Reporting for all Crew for Acclimatization
Fri 10th Sept – Race Inspection
Sat 11th Sept – Race Start
Sun 12th Sept – Race Finish
Race Route
600 KM Route Map – https://ridewithgps.com/routes/27274410
Route Details – From Leh to Thiksey (on the Manali Highway) turn, and head back up north-west to Dras (on NH1 to Srinagar) Leh is a well know destination in India and at a height of 3500Mts or 11500 ft will be a high altitude start point. Ladhak the region is a high altitude desert which almost shuts down for over 6 months of the year. The Road to Srinagar is a well maintained and incredibly scenic route, with an elevation gain of 10350 mts and a highest point of 4100 mts at Fotu La. Solo and Relay Team category Race, fully supported by crew and vehicles, time trial style ultra race, similar to The Deccan Cliffhanger by Inspire India
Format, Categories And Timings
Given the high Altitude of the race the format will be a little different from the usual non-stop time-trial format. There will be a mandatory 3 hour rest halt for all racers and teams at Kargil while returning from Dras.
600 KM – RELAY TEAM
The team event is a relay, not a peloton of 2, 3 or 4 members. Team members take turns riding, while other/s rest in the support vehicle and move up the road. Teams have the freedom to decide how often you swap riders, how long each member rides and how much distance each covers.

(FOR TEAM PARTICIPATION OF 3 or 4 TEAM MEMBERS email – inspireindiateam@gmail.com)

If Rider A is cycling, the support vehicle will position the next rider B, with her/his cycle up the route. B will wait for the A to come right up to that point, and overlap cycles, before starting to ride. A will stop, put bike on car and vehicle will follow B and move up to the next exchange point.
Categories and Timings (Tentative) are based on Team Age and Gender. Team Age is the average racing age of all Team members (total number of years divided by 2,3 or 4 depending on team size). Racing Age is the age each Racer will turn during the calendar year of the race (year of race minus birth year).


Gender
• All Men
• Mixed – at least 1 member is Male and 1 Female.
• All women
Terms & Conditions
I/We accept the following TERMS AND CONDITIONS for participating in an INSPIRE INDIA organised Ultra Race.
1. I/We have read and agree to abide by the Race Rules and Regulations.
2. I/We agree to comply with the traffic and road laws and regulations of India.
3. I/We fully understand and agree that I/We am/are entering this event entirely at my/our own risk and accept without exception full and complete liability for all and any risks and will not hold responsible nor make claims against Inspire India, any of the participants or organizer, its committee members, agents or servants for any loss, damage or injury however caused in relation to my/our participation in this event.
4. I/We understand and fully accept the rights of the Race Officials to take decisions based on perceived risk to health and safety and to stop any racer or crew from continuing.
5. I/We understand that when I/We am/are riding a bicycle, I/We am/are required to wear a helmet at all times during the event.
6. I/We understand that I/We am/are required to comply with all the safety requirements set out in the Race Rules.
7. Participation in the Event is subject to Approval from Inspire India Team after Payment of Registration fees. I/We understand that Inspire India reserves the right to refuse or cancel my/our registration, and will refund the registration fees after deductions for Payment Gateway Process.
8. I/We understand that fees once paid will not be refunded under any other circumstance, including a cancellation of event in the current situation of 2020-2021. (detail terms and conditions below)
9. I/We agree to sign the waiver form and submit the required information and documents at the time of Pre-Race Registration prior to the Race.
10. I/We understand that any attempt at cheating (as determined by the race officials) if proven, will result in immediate disqualification.
11. I/We agree to make the Payment of Registration fees as per the event tickets.
12. I/We understand that my/our Participation will be cancelled without refund for non completion of Mandatory Pre Race Registration formalities, vehicle inspection or non attendance of pre-race briefing at the appointed time.
13. I/We understand that Inspire India reserves the right to cancel any category in the event due to low participation. Option to change race category or roll over the fees to another event will be offered to registered participant.
14. I/We agree to take insurance for all members of the team, racers and crew, as per advice of Inspire India team.
15. Great Himalayan Registrations will OPEN shortly and close on 15th August 2021
16. There are NO late fees, however for all registrations done after 1st Aug 2021 – Please bear in mind the Event Jersey in your size may not be available!
Additional Terms And Conditions for Great Himalayan 2021 WRT unusual circumstances of 2020-21
17. I/We understand that this is a long distance event and currently there are no restrictions to travel to Race Start other than Neg RT PCR test. However if a situation arises, travel restrictions are applied or any other scenario requires the event to be cancelled or postponed, Registration fees will not be refunded, nor transferred to any other participant, but may be rolled over as defined below.
18. % of Fees (as per pts #3/4/5) will be rolled over to be used to participate in any of Inspire India's events for upto 2 years, ie up till Great Himalayan 2023 but the difference in fees will have to be paid by participant.
19. In case the event has to be cancelled more than 6 weeks before the event date, 100% fees will be rolled over as described in pt #18
20. In case the event has to be cancelled between 3 to 6 weeks before the event date, 75% fees will be rolled over as described in pt #18
21. In case the event has to be cancelled between event date and 3 weeks before the event date, 50% fees will be rolled over as described in pt #18
22. In case a participant is unable to travel to the race start, they need to provide a copy of govt issued guidelines or travel restrictions and the same conditions for roll over will apply as in pts #18-21
23. All participants and their respective crew accept unconditionally, all responsibility for their own health wrt any and all situation!
24. All participants and their respective crew agree to abide by health norms as directed by the pertinent authorities at all times during the event!
Additional Terms And Conditions for The Great Himalayan Ultra
1. I/We understand that this is a High Altitude Race and comes with a possibility of increased risk to my health and the health of my crew.
2. I/We understand that in the event of any health issue related to high altitude that may require evacuation, I/We take full responsibility of expenses incurred.
FEE STRUCTURE
4-Great Himalayan RAAM Style, RQ solo fees include Event Jersey for racer, Medal, Awards (as applicable), and all race signage for vehicles, Participants Tea gathering (pre-race briefing). Crew Accomodation for Racer + 3 crew at Kargil night halt druing the race (not at start/finish) is included in the Registration fees. Additional Charges will apply for additional crew.
5-Great Himalayan Self Supported fees include Drop Bag as in Rules, shared rooms for Kargil night halt during race only (not at start/finish) in addition to Event Jersey for participant, Medal, Awards (as applicable), Participants Tea gathering (pre-race briefing).
Fees do not include accommodation at start finish or on route (except as noted specifically for race and category). All vehicle, crew expenses, food and beverage expenses are to be managed by Participants.
All fees are in INR
Please read details - https://www.inspireindia.net.in/registrations/