Inspire India Ultracycling Webinar Series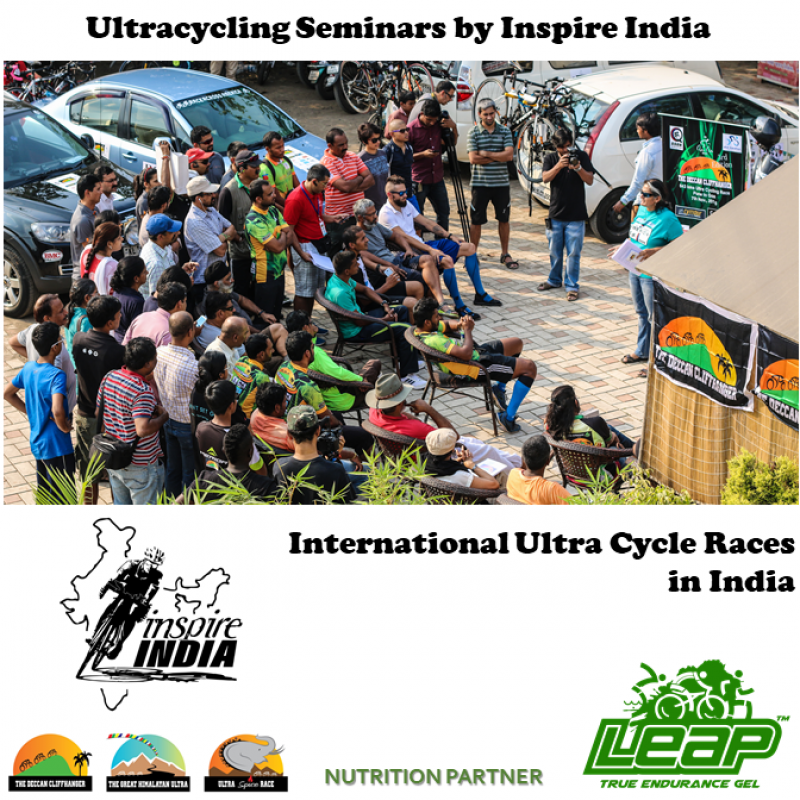 We are now shipping to all ALL ZONES across India. Further, NO DELIVERY is permitted in CONTAINMENT ZONES as of now.
Inspire India Ultracycling Webinar Series
Inspire India is conducting a series of 10 webinars on Ultracycling. This will jump start racers on the steep learning curve necessary to be able to succeed at Ultraraces. Attendees will learn all about Ultraracing, the Planning, Preparation, insights on training, nutrition, details of formats, categories, expert inputs from the elite races in India, race specific seminars and meet ups with well known people from the RAAM International community.
BENEFITS
1. The Webinars will enable attendees to attempt Inspire India Races in Solo (RQ or Self Supported) or relay Team in the following races
The Great Himalayan Ultra - Sept
Deccan Cliffhanger - Nov
Ultra Spice Race - Jan
2. And give them basic information and insights into other International Races like RAAM, RAW and RAA
3. All registrants will a receive a Leap endurance gel pack worth 499/- and get inputs from the LEAP team on how to use it to optimise performance in endurance sports.
Schedule of Webinars (subject to changes)
Webinar 1 - Saturday 30th May – 7pm-9pm
Introduction to Ultracycling and Inspire India Races
By – Divya Tate – Inspire India Race Director, Audax India Founder
Webinar 1 (repeat) - Saturday 12th June – 7pm-8pm
Introduction to Ultracycling and Inspire India Races
By – Divya Tate
(Repeat for the people who missed it)
Webinar 2 - Sunday 13th June – 7pm-9pm
Part 1 – Deep Dive into Preparation and Planning
By – Divya Tate
Webinar 2 - Sunday 13th June – 7pm-9pm
Part 2 – Training for Ultracycle Races
By – Kabir Rachure
Webinar 3 - Sunday 27th June – 7pm-9pm
Part 1 – Rules and Regulations of different Formats
By – Divya Tate
Webinar 3 - Sunday 27th June – 7pm-9pm
Part 2 – Differences in planning and performance in different Formats
By – Bharat Pannu
Special Webinar - Sunday 11th July – 7pm-9pm
All about RAAM – Open to all Inspire India Community
By – Fred Boethling – President of Race Across America
Webinar – 4, 5, 6 & 7 – 25th July, 8th Aug, 22nd Aug & 29th Aug – schedule to be finalised
1-Routes of each race, challenges to keep in mind. Focus on Great Himalayan Ultra
1-By Divya Tate and Kabir Rachure
2-All about Ultraracing Nutrition
2-By LEAP Endurance Gel experts and Elite Racers
3-Deep Dive into Behind the Scene Preparation for II Races and RAAM with Sapana Rachure
3-Sapana Rachure – Crew Chief for Kabir Rachure
4-Insights into RAAM with Janice and Jim Sheufelt
4-Janice Sheufelt – RAAM Solo winner 2015, Crew Chief Jim Sheufelt
Webinar – 8, 9 & 10 – Sept-Oct – schedule to be finalised
Topics - TBA