The Gran Fondo Ride (2N 3D)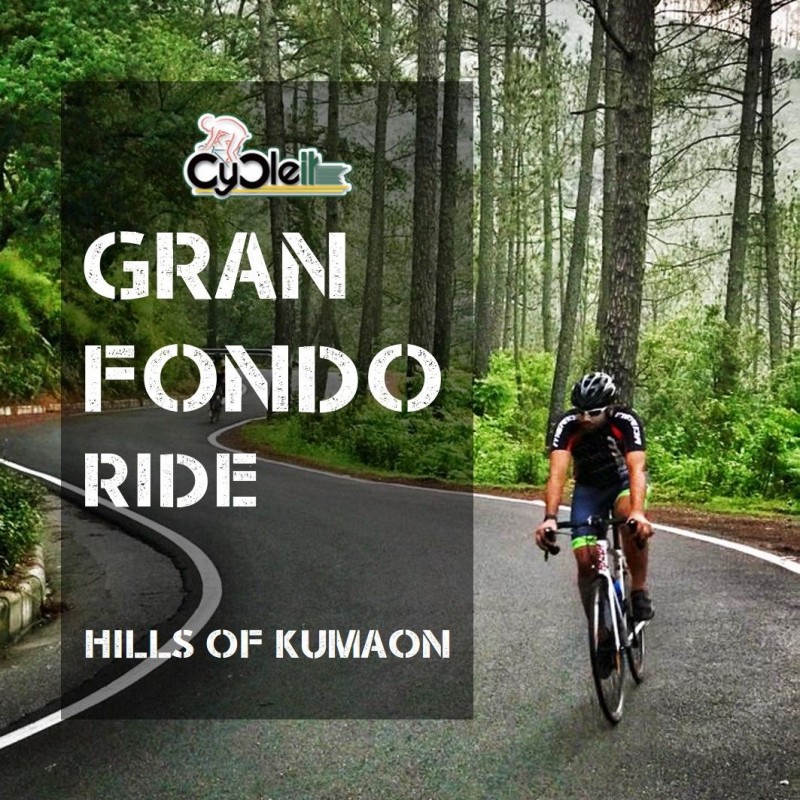 The Gran Fondo Ride in the Hills of Kumaon - Nainital to Chanfi
Day 1: 30 km ride
Reach Kathgodam/start point Chanfi. Assemble your bike. 1st ride of 30kms will start after lunch.
Evening tea and snacks.
Dinner.
Overnight stay in Chanfi at a nice Farm stay.
Day 2: 100 km ride
Start at 6 am. Route will be Nanaital-Gagar-Ramgarh-Nathuakhan-Seetla-Mukteshwar-Bhatalia-Dhanachuli-Padampuri-Chanfi. This will take around 6-8 hrs depending upon breaks and the speed of the riders.
Lunch local home cooked food en route. Ride will start after breakfast.
Back to Chanfi by 5-7pm tea and snacks.
Dinner
Day 3: 40km
Lazy start around 8 after breakfast.
A loop ride through the orchards and the villages. Crossing beautiful Kumauni traditional houses and step farms. Chit chat with locals en route at tea stalls. We will wrap up and pack our bikes by 3 and start our journey back home.
Reach back Delhi in night.
Why Cycleit.in
No one understands the needs of a rider on this terrain like us and therefore we have created the ride in a way that irrespective of your skill level among the group of riders you will never be left unattended. The biggest challenge on this route is the altitude and we have ensured all safety and back up options like carrying oxygen cylinders to ensuring right nutrition and hydration plans for the riders to training our staff on basic first aid. We have specially designed the food menu and provisions during the ride to keep you well nutritioned and fit for the ride.
Terms & Conditions
Vehicle provided as per mention tour plan (Point to Point Basis only)
No Refund or Compensation for any unused services / transportation under any circumstances
Cancellation Policy
Part Payment Option
100% payment to be deposited 30 days before the trip starts -
20% at the time of booking
30% within 45 days of the start
50% 30 days before the Expedition start
Final Confirmation will be provided on full payment
If the second and third instalments are not paid by the due dates, the booking will be cancelled
The advance payment is non refundable

Full Payment Option
20 % Cancellation charges if cancelled before 29 days before the tour
25% cancellation charges if cancelled within a 20 days before the tour
50% cancellation charges if cancelled within a 10 days before the tour
No refund for tour starting within 10 days of tour or after starting or middle of the tour
If we will not be able to meet the desired minimum pax for the expedition (you can choose any of the options):
We will give you an alternate date
We will refund the 100% amount
We will charge the extra differential depending on the number of the confirmed pax and we will run the expedition
Rules & Regulations
The rides will happen only in day light and Cycleit reserves the right to call off the ride for riders who are unable to reach the destination before sunset. Or find them unsuitable for a ride or find weather conditions unsuitable for riding.
It is mandatory for all riders to wear helmets all through the ride
Though the rides will be riding only in daytime, its advisable for the cyclists to wear reflective vests, carry front & rear lights and a warning horn/bell/whistle just in case of overcast sky/fog conditions.
All riders are required to honor Laws & customs of the land
Drinking / drug abuse /any other intoxicants during or afterward of the ride is strictly prohibited