VAGUS adventuro 2.2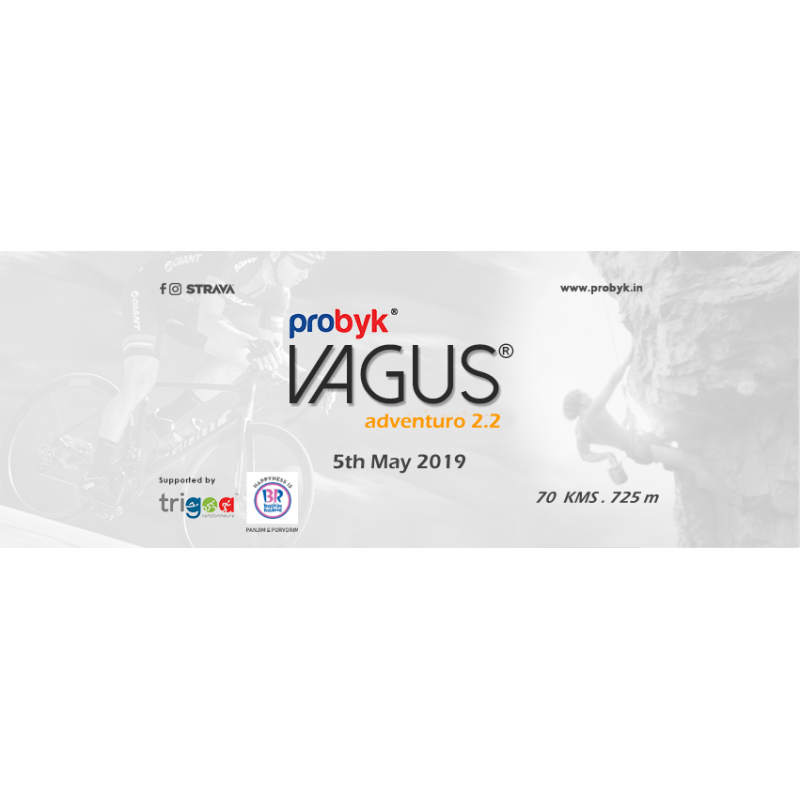 "The restless pace of a traveller's heart before the journey begins, when anxiety and anticipation are tangled together; wanderlust"

VAGUS adventuro 2.2
Date: 05/05/2019
Reporting Time: 06:00 hrs
Start: Baskin & Robbins, Alto Porvorim, 06:30 hrs
Distance: 70 kms
Elevation: 725 m
Duration: 5 hrs Max
Registration Fees: INR 495/- for registrations before 28th April 2019; thereafter INR 795/- will apply.

Inclusive:
Sumptuous Breakfast en route
Snacks, Fresh Fruit Juice & Electrolytes en route
Safety Vehicle for Medical Emergencies
Baskin & Robbins Ice Cream
A Pint of Popular Hydration/Summer Cooler to end the ride

Vagus events are aimed at being fun and exciting; with that in mind we have come up with what we think is a unique format. You don't know where you are going until you get directions at the next checkpoint.

At the start of the Vagus ride, each rider will receive details of the first checkpoint. Riders must check the route and start at the appointed time. Riders must stop at each checkpoint to sign that they have reached and pick up instructions for the next checkpoint. Kindly go through the Rules and Regulations.

This is not a Race; however the rider will need to complete the route in the stipulated time to qualify. Vagus events are organised in the spirit of fun and to promote camaraderie and navigational skill among the riders. The route shall be scenic and riders are encouraged to stop and take pics.

Rules & Regulations: https://docs.google.com/document/d/1VuFgAEMnsvTQLvgYV5I-lYy95x5s4J-3beEnF-Zi2Ng/edit?usp=sharing

Children above 12 years of age can participate in the event provided the parent too is a participant and submits the mandatory parent consent form duly signed at the time of registration.

Registration: https://www.instamojo.com/GearWorx/vagus-adventuro-22/

Limited Entries Accepted on First Come First Serve Basis; Hurry Register Now!

VAGUS - essentials
1. Helmet
2. Shoes
3. Spare Tubes | Mini Pump
4. ID Card | Bike Tags
5. Water
6. Energy Bar | Snack | Nuts
7. Emergency Money

VAGUS - spirit
1. Thou shall not Race
2. Thou shall not Cheat
3. Thou shall Help Fellow Riders
4. Thou shall follow Rules
5. Thou shall Smile & Pose for Photographs
6. Thou shall enjoy the ride & Not Complain
7. Thou shall best be Safer than Sorry

For further details email support@probyk.in or SMS 7720882228
© 2019 Probyk
® All Rights Reserved

Vagus is a registered mark owned by Probyk, Goa and the name/concept cannot be recreated in part or full without express written permission from Probyk, Goa.