The Ultra Spice Race 2020 Solo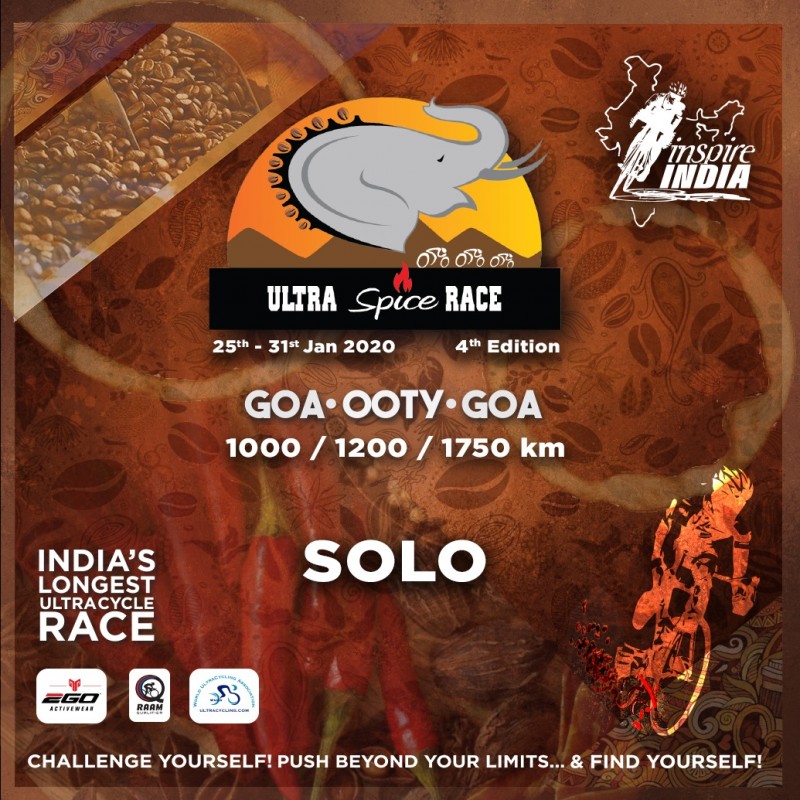 We are now shipping to all ALL ZONES across India. Further, NO DELIVERY is permitted in CONTAINMENT ZONES as of now.
THE ULTRA SPICE RACE 2020 SOLO
The Ultra Spice Race has 2 distances – 1000km and 1750km with option of solo and team, all starting and finishing in Bogmalo, Goa. In the 1000 and 1750 km categories, for relay team and RQ solo 2 support vehicles with a minimum of 2 drivers in each vehicle are mandatory. Relay is RAAM style and Solo Races of both distances are RAAM Qualifiers, ie Solo racers who finish within stipulated time will qualify for The Race Across America. In this 4th edition we are introducing 1750 KM SOLO UNSUPPORTED, which is not an RQ. The Races are also on the Ultramarathon Cycling (UMCA) calendar.
Race Schedule
START DATE: 25th Jan 2020 – Solo Unsupported 1750KM
START DATE: 26th Jan 2020 – Solo RQ and Team
START & FINISH: Johns Seagull, Bogmalo Beach, Goa
DISTANCE: 1000 & 1750 Km
FINISH DATES: 28th Jan – 1st Feb
FORMAT: Solo event and Team Based relay event
PRE RACE: Registrations 25th Jan 2020
Race Route
The Race starts right on the beach, and follows the coast crossing coconut tree lined creeks, before turning inland. Here the route goes through the forest and plantation covered mountains of the south. Different distances expose you to everything from Betel Nut, Pepper and Coffee plantations to tea estates. The route returns again along the coast to finish back on the beach.
Categories And Timings
SOLO RAAM QUALIFIER
Support Vehicles and crew are mandatory for SOLO RAAM Qualifier! Solo racers ride the entire distance, while their crew provides them with full support. Categories and Timings are based on Racing Age and Gender. Racing Age is the age each Racer will turn during the calendar year of the race (year of race minus birth year). Solo RQ category Racers in 1000 and 1750KM Qualify for The Race Across America if they finish within the cut off timings.
SOLO UNSUPPORTED
Inspire India introduces a New Ultracycling Race format in the Ultra Spice Race 1750 km… Solo UNSUPPORTED! Enjoy this lush green route on your own steam… No support vehicles, no crew, minimal support from race organisers. Refer to timing chart below. Racing Age is the age each Racer will turn during the calendar year of the race (year of race minus birth year).
PLEASE NOTE UNSUPPORTED 1750 KM IS NOT A RAAM QUALIFIER.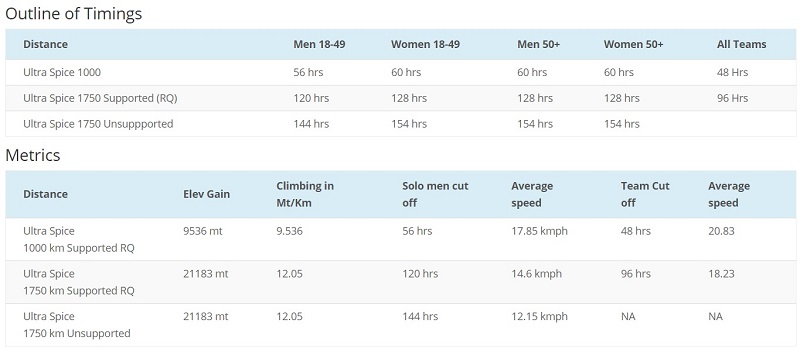 Rules & Regulations
Guiding principles
Safety of all persons involved
Running a Clean and Healthy race with a level playing field for all
Creating a Race of International standards
Protecting Race integrity and reputation
(The guiding principles will dictate decision making by the Race Committee on any issue not specifically covered in these rules)