Kutti Roadies 2019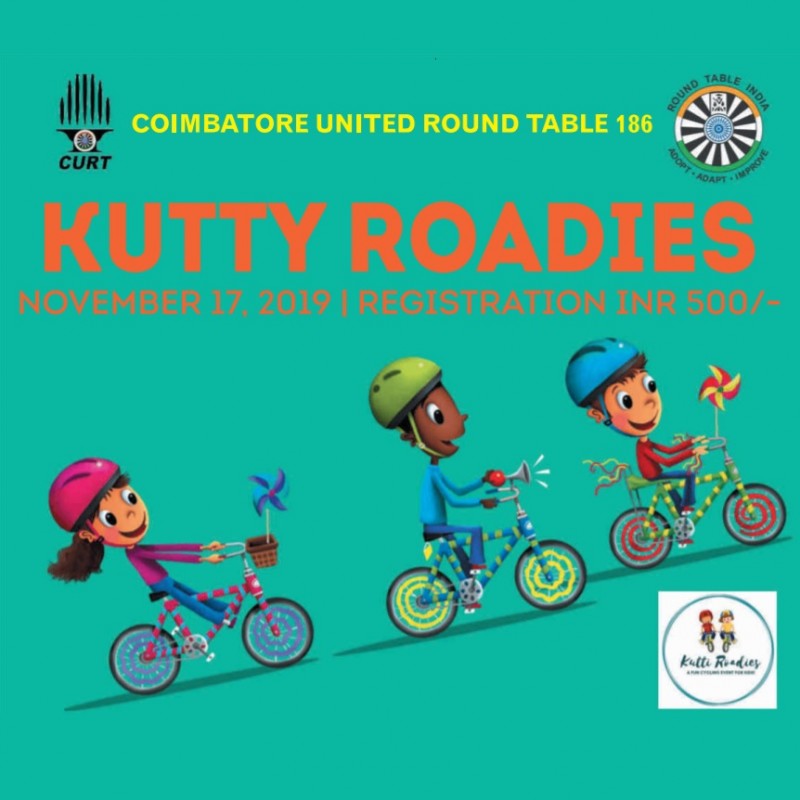 We are now shipping to all ALL ZONES across India. Further, NO DELIVERY is permitted in CONTAINMENT ZONES as of now.
Kutti Roadies 2019
A fun cycling event for kids
Where: Codissia Inside Ground
When: Nov 17, 2019, 6-9am
Coimbatore United Round Table 186 is organising a fun Cycling event for kids where they can gather and pedal it out with their friends. The event will commence with a fun warm up session with music and then will focus on giving the kids an experience to ride in a group and also to educate them about the road rules. Breakfast will be provided for kids and parents at the venue. So come join us for a morning filled with lots of fun and take away medals as every kid is a born winner! So Are you ready?!!
Category
Pre KG, LKG, UKG - 500M
1 & 2nd Standard - 1Km
3rd and 4th Standard -
1 or 5Kms
6th to 9th Standard - 5Kms
Contact
+91 98940 74800
[ ] I/ My Child certify that I/ My Child am/is physically fit, have trained sufficiently for participation in this event and have not been advised against participating by a qualified medical person
[ ] I/ My Child hereby assume all the risks of participating in this event, regardless of their cause. I/ My Child waive, release and forever discharge Coimbatore United Round Table 186, its constituents and its assigned associates from any and all liability for my death, disability, personal injury, property damage, property theft or any actions of any kind which may hereafter accrue to me from this event
[ ] I/ My Child will permit free use of my/our name and pictures from the event in media broadcasts, print and television etc