EPREUVE DE FORCE 2020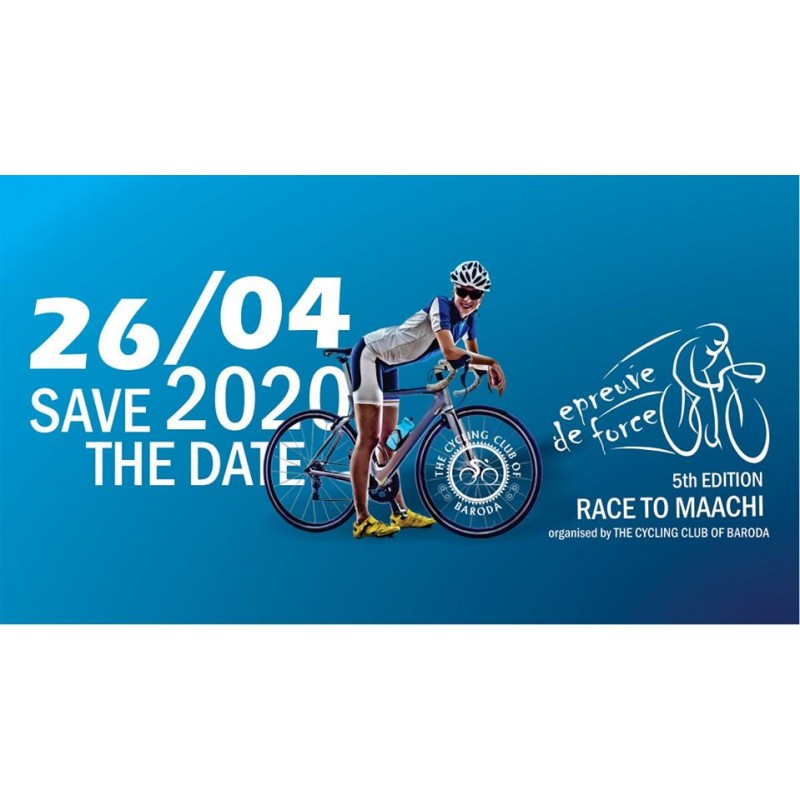 We are now shipping to all ALL ZONES across India. Further, NO DELIVERY is permitted in CONTAINMENT ZONES as of now.
EPREUVE DE FORCE (Race to Manchii Haveli 55km) Trial of Strength – 5th Edition
[1] Entry Fee: Rs.600/- (includes breakfast at finish, finisher's medal, digital timing certificate, tempo transport for the bike and bus transport for the rider)
[2] ROUTE: We have set the route to make the ride safer for participants by taking a detour via Pavagadh bypass road and finishing the race at Saat Kamaan. Race distance is 55Km (not including the neutral zone ride of 4Km from VIP road to start point). Route link: https://www.strava.com/routes/12605845
[3] Categories:
Men's Open
Men Veteran (40+)
Women's Open
Women Veteran (40+)
[4] First three riders in each category to cross the Finish Line at Saat Kamaan would be presented with prize money:

First Place: Rs.10,000/-
Second Place: Rs.7,500/-
Third Place: Rs.5,000/-
[5] Start Details :- From the Airport end of the VIP Road Flyover (near Amit Nagar circle) at 5:30 am. Racers to report and check-in with race officials no later than 5:15AM at the flyover edge. The event would be non-competitive up to Vadodara-Halol Toll Plaza. The race will officially flag-off from the Toll Plaza by 6AM with each category flagging off separately.

[6] Officials would be at the Finish Line at Saat Kamaan to record the Positions and Timings of the riders crossing the finish. The RACE finishes at Saat Kamaan. Winners timings will be announced at prize ceremony at Saat Kamaan. Individual timings will be emailed to finishers at their registered email ID after the race ends. Participants are requested not to bother time keepers at the finish line for their timings.
[7] The event would be escorted by 7 to 10 motorbike-mounted officials for its smooth conduct. There would be a car to sweep any riders discontinuing the race enroute. We will position volunteers at major turns on the route to guide all participants. However, all racers are required to be familiar with the route.
[8] In case of traffic jams and snarls at the summit, the riders would be required to walk the final stretch with their bikes to cross the finish line. The complaints in this matter would be out-rightly and unequivocally rejected.
[9] It is mandatory and customary of the participants to obey and follow the Traffic Rules for the safety of their own and for that of the other road users as well.

[10] All the participants would be served refreshments after the event near the Finish Line.

[11] All finishers will be given digital Certificate of completion with their timing.

[12] Children below 18 need to be accompanied by parent/guardian.

[13] Cut-off time for finisher's medal will be 3 hours 15 minutes.

[14] Those who opted for transportation back to Baroda will roll down to base of Pavagadh and load their bikes on to the truck and then board the bus. Buses and trucks will depart from Pavagadh by 9:30am and will drop off riders & their bikes at the city limits after the toll booth between 10:30am to 11am.
[15] BIB Collection: Race bibs will be distributed on 25th April, 2020 from 6PM to 9PM at Parth Enterprise (Firefox Bike Station), Opp. Jain Deraser, behind Pratham Complex, Iskon Temple road, Vadodara.
Rules and Regulations for Epreuve de Force, 5th Edition
Entry Fee Rs.600/- for all categories
Children Below 18 years are not allowed to participate in the race except children who have played at the state or national level. Children below 16 years will not be allowed to Race.
The Last date for submission of the Entry will be 20th April, 2020 till 23:00 hrs. No Entries will be accepted thereafter.
In above 40 years categories, the cut-off date is born on and before 26th April, 1980.
Organisers reserve the right to merge the above 40 years categories with open category (both men or women) if there are less than 5 riders in one category. In such case the riders will be considered in the open race only.
Participants must be aware that participating in this event is solely at their own discretion and the organisers will not be responsible of any accidents, damage or unforeseen incidents to the participant or its equipment.
Wearing of Helmets is Mandatory. Helmet straps are to be secured firmly. If found riding without a helmet, rider will be disqualified and rider number will be immediately taken away.
Wearing of Rider number is Mandatory. You will be given your rider number and instructed on its exact placement.
Racers/riders are warned that the road is not closed to regular traffic. Race/ride with full awareness of other users on the road.
No Personal Support vehicles are allowed (including technical support like wheels). Participants seen to be accompanied by support vehicles of any kind will be disqualified.
Riders are required to carry their own hydration for the race. No external help will be allowed. Participants seen taking any external help of any kind will be disqualified. Food & water will be available only at the finish point.
This is a MASS START EVENT starting time will be 00.00 (Gun shot time), while finish will be photo finish i.e 1st, 2nd, … 5th, immaterial of the timing
Riding: Following manoeuvres will result in disqualification:

Wilful obstruction of a rider by
i. Sudden manoeuvres resulting in contact with other riders
ii. Sudden stopping while riding in a peloton or with another rider(s) immediately behind
iii. Leaving bicycle or any other part of equipment in the path of the riders
iv. Wilful body contact of any nature with any rider at any time
v. Distraction of other riders
1. Shouting
2. Loud and startling sounds
Following assisted riding will result in disqualification
i. Holding any vehicle
ii. Drafting behind any motorised vehicle
iii. Holding any other rider

Staying on the Path

Route are announced well in advance
It is your responsibility to stay on these paths
Vandalism, mischief or any other factors resulting in missing, malposition or mal-directed indicators is not the organiser's responsibility
Staying on the pre-announced route is your responsibility. Organisers are not responsible if you take a wrong turn with consequential disadvantage
Riding in the wrong direction: Any rider riding in the wrong direction at any time for any reason whatsoever will be disqualified
All riders must observe traffic rules.

Race Committee's decision regarding results is final.
Due to any unavoidable circumstances the organisers reserves the right to change/cancel/postpone place, route, date and time at their own discretion.
The Contact nos. will be provided for sweep vehicles at the start of the Ride.
____________________________
On Behalf of TCCB
Declaration:
[ ] I certify that I am physically fit, have trained sufficiently for participation in this event and have not been advised against participating by a qualified medical person
[ ] I hereby assume all the risks of participating in this event, regardless of their cause. I waive, release and forever discharge The Cycling Club of Baroda, its constituents and its assigned associates from any and all liability for my death, disability, personal injury, property damage, property theft or any actions of any kind which may hereafter accrue to me from this event
[ ] I will permit free use of my name and pictures from the event in media broadcasts, print and television etc.