Backroads of Rajasthan - Culture & Heritage Cycle Tour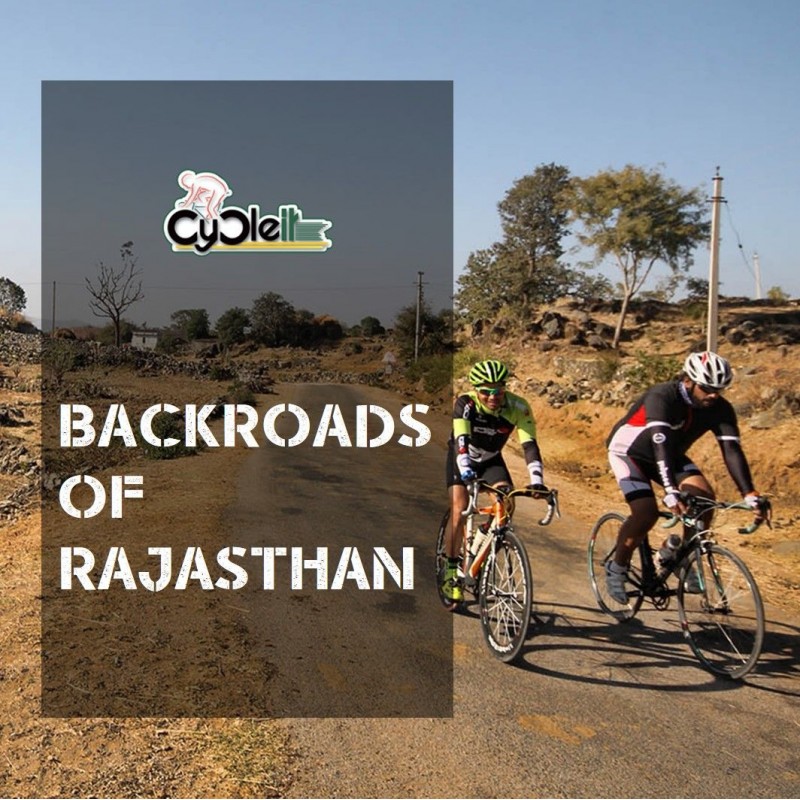 About The Back Roads of Rajasthan Cycle Tour 2018
Rajasthan is not just about colorfully dressed locals, exquisite Havelis and forts or tales of Rajputana grandeur, for a cycling enthusiast , Rajasthan also boasts of some of the most spectacular back roads and cycling trails through the countryside. The arid Aravali landscape, the local culture, the unique cuisine and the ruins of a bygone era makes for an awe-inspiring experience. It's the best destination for someone looking to explore the culture & heritage of India on two wheels.

Rajasthan is one of the most diverse and beautiful states of India with vast stretches of varied landscapes. From Sand dunes to the thorny Aravalis to the hills and plains, there is so much to explore that a weekend doesn't justify the effort; and top that with the Royal Rajasthani hospitality, you will have to return for more.
Format of the Ride
The ride is open to all amateur and seasoned cycling enthusiasts who are physically fit to endure the challenges of riding on the hills with an approx of 50 to 100kms per day over 6 days of riding. This is not a very demanding ride but we expect the participants to have suitable amount of long distance riding & climbing experience. The combination of climb-weather-altitude makes this a unique and a fun challenge. Once you sign-up, we can help you design a training plan to so that you can enjoy the expedition fully!
Start & End point of the Trip
The start point of the tour is AJMER. You can fly in to Jaipur or board a train from your city of choice ; End point of the trip is JODHPUR; Incase you need help in getting your tickets arranged, please feel free to connect up with our contact person
No of Days
3 Nights & 4 days
Type of Expedition
Cycling, Heritage & Culture
Weather Updates
The weather is ideal in December. Day temperatures range between 16-20 degrees while night temperatures are between 4-8 degrees.
Photography
We understand the value of sharing your memories with your loved ones back home we will make sure we will click lots of pictures of you during the ride and also when you are not riding.
Itinerary
Day 01 – Arrival in Ajmer – Drive to Pushkar - Ride to Nimaj
(111 Km approx ride and driving)
On arrival at Ajmer Junction you are met by our representative and transferred to Pushkar , which is a short 40 min drive. On arrival at Pushkar we freshen up and assemble our bikes and take on the road to Nimaj. During the ride you will come across numerous village and friendly villagers , the kids waving at you with a broad smile. You are free to stop at any time and strike a conversation with the villagers. We reach Nimaj by late afternoon, Nimaj is an ancient town under the Pratihar rulers of Mandore. Here you will be staying in a heritage property which is run by the present Thakurs of Nimaj. The palace facade carved in red sand stone makes it a distinctive landmark in the architectural history of India. In your leisure time you are free to explore the village on foot or on your cycles.
Day 02 Nimaj – Chandelao
( 72 Km– All ride, with Support Vehicle)
Start time – 9am – Post breakfast we will have a briefing and a quick warm up session.Today we begin our epic journey across Rajasthan, starting gently with a ride on the backroads through villages to Chandelao Garh. This is an easy terrain to ride in, so you can enjoy the vistas with ease. You will be again passing through lot of villages. On arrival check in to Chandelao garh highly rated place will enfold you in a different world - the world of the rulers of Rajasthan in a traditional village. Majestic Chandelao Garh is the ancestral home of the landowners of the area, and has been tastefully converted to a modern hotel. Overnight at hotel.
Day 03 Chandelao - Kherwa
( 90km– All ride, with Support Vehicle)
Start time – 9am – Post breakfast you will cycle towards today destination Kherwa. The terrain will be the same as previous day with the view of vast farm lands. Dera Khairwa is a 15th Centaury fort-palace located in the village of Khairwa in the Pali district. The rulers of Dera Khairwa belong to the nobel clan of jodha Rathores, who are related to the founders of the city of Jodhpur. Dera Khairwa the Fort-Palace Situated in a rural setting, has opened its gates for the guests, which offer an enlivening experience of royal legacy with simplicity and style.The rugged historic structure amalgamates with the stunning red sandstone monument, it is a mesmerizing example of the Mughal-Rajput period architecture.
Day 04 Kherwa - Jodhpur
(Ride)
After a relaxing breakfast you ride to Jodhpur.
Jodhpur city is situated at the edge of the Thar Desert and was founded by the Rajput chief Rao Jodha in 1459. It is surrounded by a 10-kilometre-long wall with eight gates serving as entrances. The new city is settled around this walled area. There are about a hundred towers in the city, most of which are surrounded by defensive battlements. Jodhpur is also referred to as "The Blue Town of Rajasthan". Once the capital of the powerful kingdom of Marwar, Rajasthan's largest princely state, this is the land of the valiant Rathore kings, whose courage was a match for the tyranny of the Thar Desert.
You visit the Meherangarh Fort, the most famous landmark of Jodhpur. Straddling the rocky crevices it rears up high, its sheer walls reflect the strength of its warrior builders. The museum within the fort is one of the finest in Rajasthan and displays royal apparel, ancient paintings and manuscripts, fabled treasures of the royal household and an armory. On the road down from the fort, the splash of blinding white marble on the left is Jaswant Thada, Maharaja Jaswant Singh II's cenotaph. If time permits we can also go for some last minute shopping before boarding the train for Delhi.
Why Cycleit
One can differentiate between a good experience to a unfavorable one basis on how one feels after the trip has ended. It's our continuous endeavor to make any trip/ expedition that you do with us, a memorable one worth remembering and talking about. Here is what we do to make it special for you.
Your safety is our priority. We go an extra mile to ensure that all our guests are not only comfortable but safe & secure. All our planning's, recces and arrangements start with safety evaluations.
We want to offer the maximum in every day that our guests spend with us; We have designed everyday keeping in mind that not only your ride is of the utmost quality but the itineraries are designed to give you an exceptional experience of the culture & heritage of the region and a first hand experience of the life in a countryside.
Cleanliness, hygiene and comfort are an imperative on our list, we try and choose the accommodations to ensure they are also reflective of the region and culture; so is our food, not just tasty, but local and unique.
If you are renting the bikes from us, be assured of the best quality and condition.
We believe in customizing to the smallest possible degree and having small groups helps our case immensely as the holiday experience manager is able to interact with the guests at more intimate level with higher spans of attention.
Last but not the least, your non-cycling days are planned with equal care and enthusiasm
We want to make every day a personalized and unique experience…after all its your time out from the mundane and we ensure its extraordinary!
Ride Specifications
This is a fully supported ride with-

Support Vehicles -The ride will be supported by -Lead and a Sweep car
Basic First Aid – The crew is trained for emergency evacuations procedures and basic first aid
Service Support & Spare Bike
There will be an mechanic/ support staff and also spares incase you are renting the bike from us.
There will be a spare bike incase of a breakdown so that no one misses the ride.
Inclusions
All stays (double sharing),
All meals starting with lunch on day 1
All refreshments during the rides(energy bars, ORS, Glucose, Chocolates, water, cold drinks etc)
Support vehicles
Basic first aid .
Sweep vehicle support for riders unable to make it in time to destination.
Exclusions
Any personal expenses (a-la-cart meals at hotel, room service, ride time expenses, break down/repair expenses, laundry, local excursions not included in the itinerary, telephone bills
Emergency evacuations or out of turn return to base.
Any transportation incase the riders decides to abandon the ride due to physical issues or otherwise.
Terms & Conditions
Vehicle provided as per mention tour plan (Point to Point Basis only)
No Refund or Compensation for any unused services / transportation under any circumstances
Cancellation Policy
Part Payment Option
100% payment to be deposited 30 days before the trip starts -
20% at the time of booking
30% within 45 days of the start
50% 30 days before the Expedition start
Final Confirmation will be provided on full payment
If the second and third instalments are not paid by the due dates, the booking will be cancelled
The advance payment is non refundable

Full Payment Option
20 % Cancellation charges if cancelled before 29 days before the tour
25% cancellation charges if cancelled within a 20 days before the tour
50% cancellation charges if cancelled within a 10 days before the tour
No refund for tour starting within 10 days of tour or after starting or middle of the tour
If we will not be able to meet the desired minimum pax for the expedition (you can choose any of the options):
We will give you an alternate date
We will refund the 100% amount
We will charge the extra differential depending on the number of the confirmed pax and we will run the expedition
Rules & Regulations
The rides will happen only in day light and Cycleit reserves the right to call off the ride for riders who are unable to reach the destination before sunset. Or find them unsuitable for a ride or find weather conditions unsuitable for riding.
It is mandatory for all riders to wear helmets all through the ride
Though the rides will be riding only in daytime, its advisable for the cyclists to wear reflective vests, carry front & rear lights and a warning horn/bell/whistle just in case of overcast sky/fog conditions.
All riders are required to honor Laws & customs of the land
Drinking / drug abuse /any other intoxicants during or afterward of the ride is strictly prohibited